Choose Template
Not sure what design you want? Choose from the variety and range of template designs we have for the canvas print wall displays.
Why Choose Us?
A common question- here's our uncommon answer
Certified printers

Best quality canvas prints USA!

Lowest prices guaranteed

Lighting and fast shipping

Safe and secure

Quick ordering
How it Works
We offer customized products with a difference; we allow you to customize the products. You design, we create! Here's how we work.
Choose Template
Choose that one thing you wish to customize, from our list of templates. We have defined a range of templates just for you!
Create Designs
Put your photos into layouts of templates and create design with a different options.
Place Order
Once your design is ready, click to submit the design. Process the order and make the payment. We are now ready to customize the product.
Canvas Photo Wall Display Ideas
Leave it to us if you want to showcase your personal style in bits and pieces! We will help decorate your home's small corners and spaces and bring your walls to life with our creative ideas on canvas prints. Send us your treasured pictures and allow us to do magic.
Position the canvas print horizontally, vertically, or diagonally or use any of the two positions alternately. It will build a masonry layout. A three-panel panoramic canvas print will create an ideal background in your living room. If you split a photo into vertical sections, it looks more attractive. Whether you use your wedding photos, graduation photos or your baby's newborn pictures, these ideas will immortalize your treasured memories.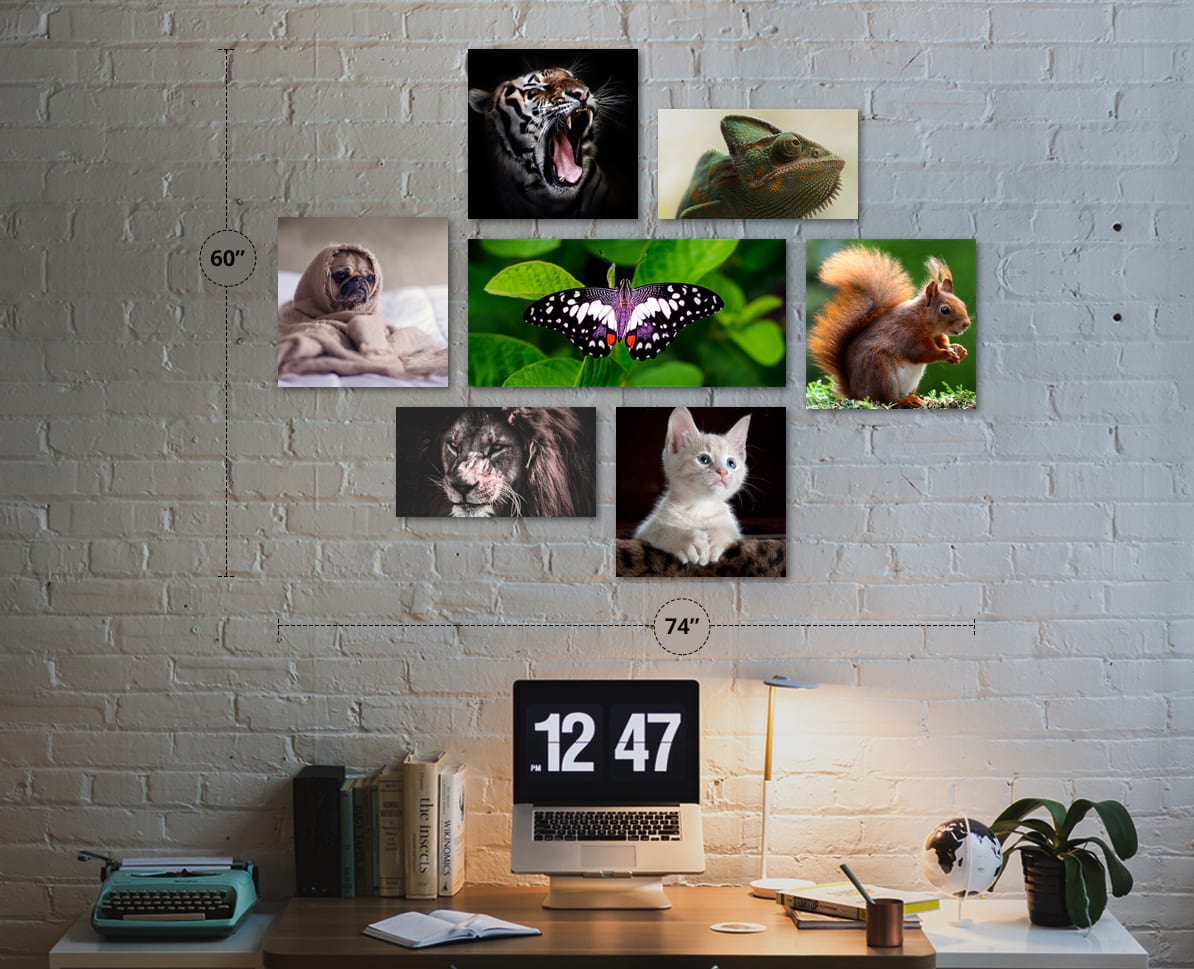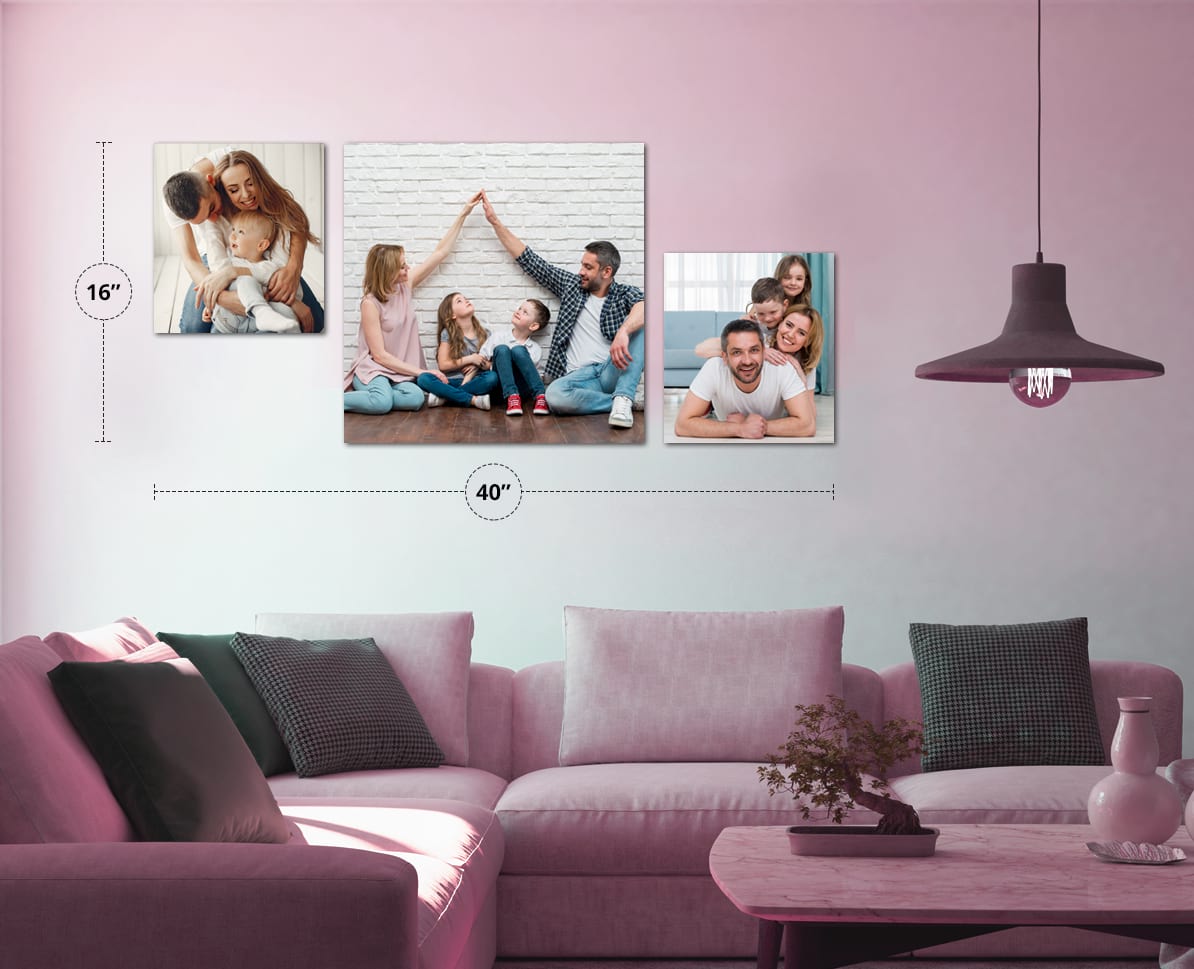 Family Photo Canvas Wall Display
One of the most artistic ways of decorating your home while displaying love for your family is decorating and dedicating an entire wall of your home to family photographs. We will help you step up your home decor game with a family photo wall.
A connoisseur of bohemian style then accentuates the wall's display with boho tassel wall hangings along with your family photo pinned onto it. You can also set your pictures against a pastel-themed wall to bring out more character to the home decor.
Single Panel and Multi-Panel Wall Display Styles
Use wall paneling as an accent feature to transform your room's overall look and hide any kind of exposed wiring. We can help you decide on which wall to choose for giving your home decor a much-needed revamp.
Wall paneling will add a unique style and personality to your home. Whether you're looking for something traditional or modern, we have a wide range of display styles that will inspire you. We will help you get creative and begin planning your wall paneling for your home decor.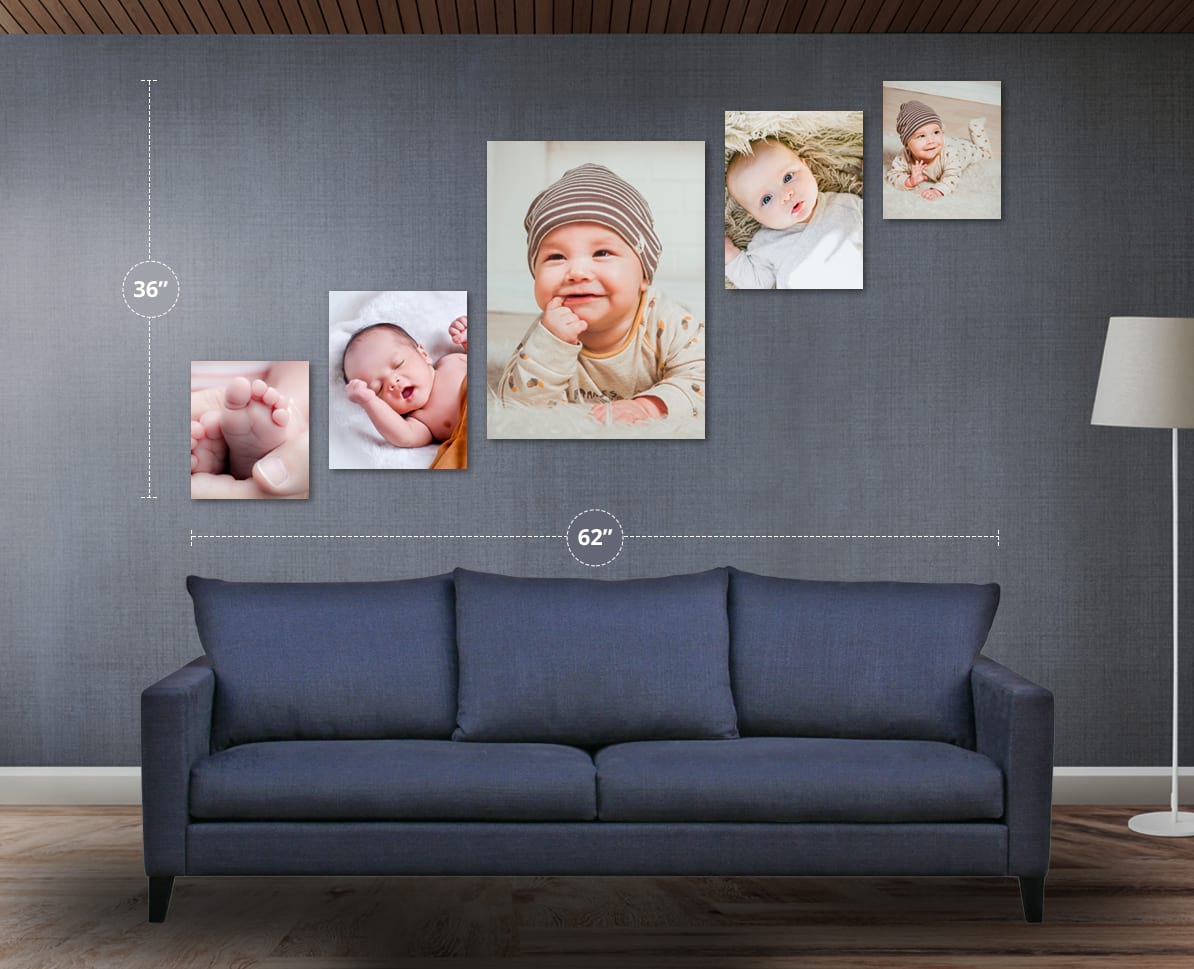 About Wall Display
Want your wall to tell an interesting story or, want to give your office or home a new look? Our wall display designs might just be what you want. We express artwork in different formats, keeping in mind the space needs.
Tell a story through a canvas photo prints decorated across your wall. What we offer:
A beautiful tale that spreads across the length of your wall.
Improvised versions of your memories in templates of your choice
Personalization of your memories by allowing you to create your own designs
What you get with canvas wall displays
Single Panel Wall Display: A single picture is demonstrated in a simple yet effective manner by exploring the depths in order to enhance the look of the wall it is mounted on
Multi Canvas Wall Displays: The images are spliced into different tiles, and are then mounted on the wall to bring a larger than life look to the wall.
"Love the products". Love every thing I have ordered, created through printonn. Their canvas print quality really very excellent + delivery was quick and customer support great.
Joseph
Submitted Aug 25, 2022 7:30:21 PM
"I love Printonn - it's easy to use and…" Very easy to use. They have many options to suit anyone's needs and taste. I purchased my photography workshop from printonn and was very pleased with them. Pricing is reasonable as well.
Thomas
Submitted Sep 6, 2022 8:24:14 PM