10 Trendy Canvas Wall Display Ideas for Next-Level Home Decor!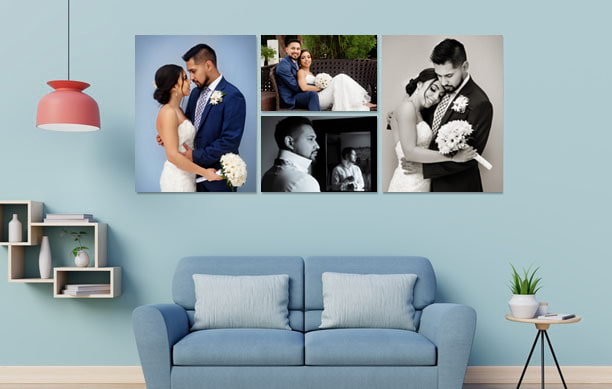 Aren't blank walls at home boring? Why not liven it up with bits and pieces of canvas prints that add a splash of style to your home décor! We have narrowed down interesting canvas wall display ideas to enhance the wall décor with a personalized touch.
Are you envisaging the possible art arrangements for wall display canvas photo prints? We offer you an immediate solution. There are versatile ideas and concepts through which you can elevate the prominence of personal moments on your home walls.
Canvas is the most subtle and understated wall décor that can charm up the room and convey your persona and choices in the best way. Striking colors or monotones, the canvas art speaks volumes about your life journey and creates a visual style statement. Let's delve into them!
Bring Photos to Life with Wall Display Canvas Photo Prints Ideas
Canvas prints blend the picture image with a realistic touch and elaborate the tales to create a grandeur. These prints are a good investment in terms of longevity and cost-effectiveness. So, all set to adore your precious home walls with interesting photo display board ideas.
Thematic Family Photo canvas wall display
Pick a photo wall theme such as family, vacation, friends, or an event. Skilfully select top pictures from the same theme to create a series of frames that sync well and replicate your moods or moments. Keeps a standard pattern of frames in assorted sizes with the same finishing or appeal.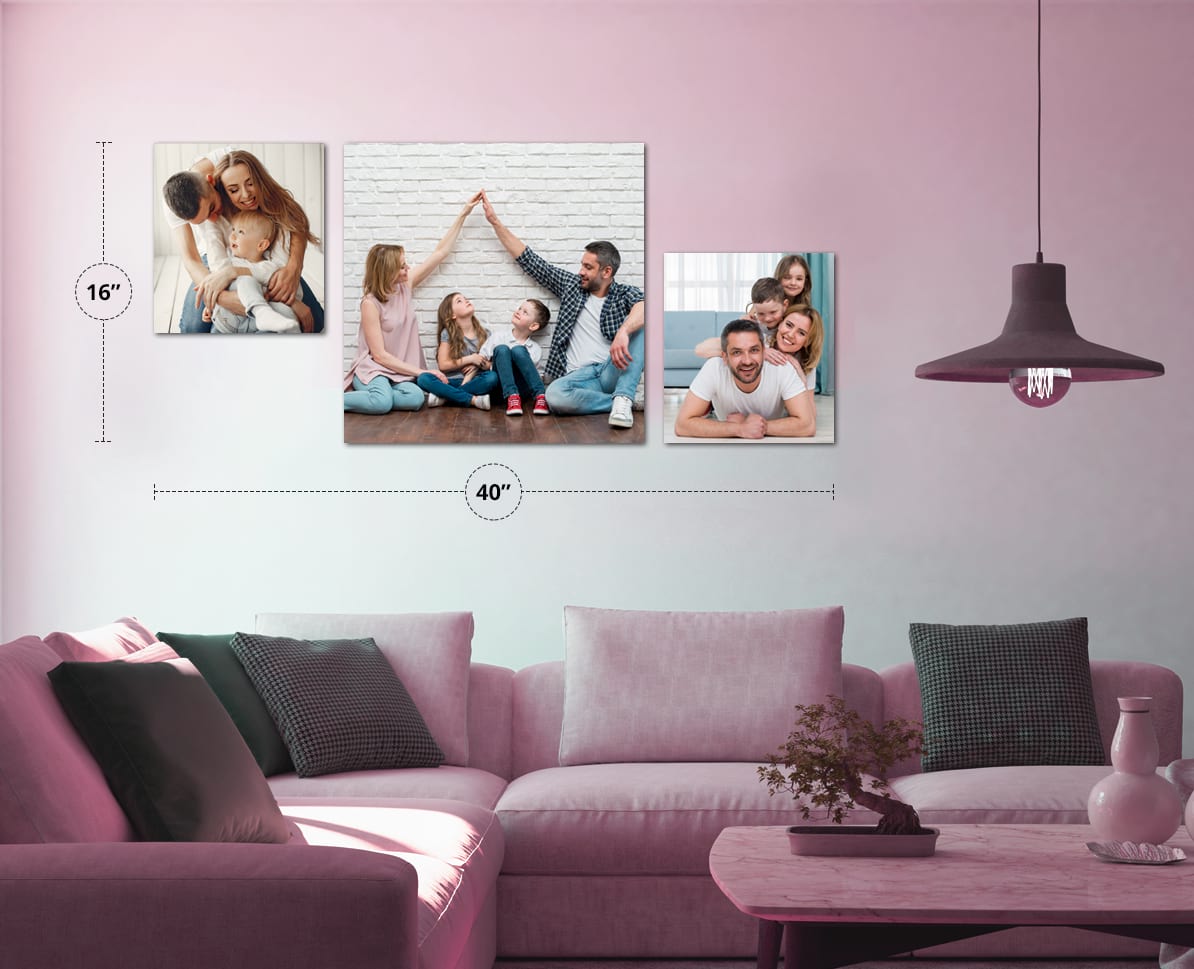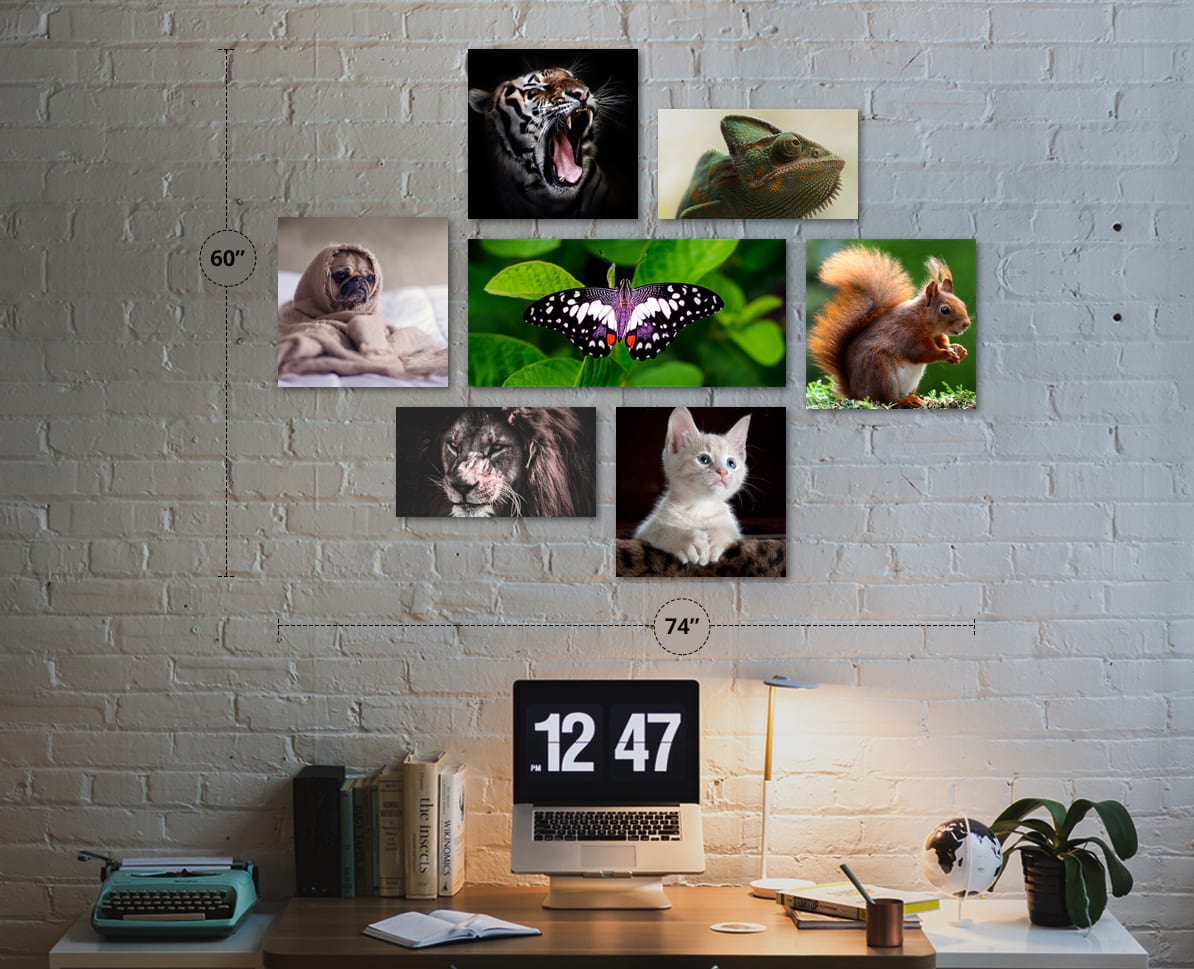 Curate ledges of canvas wall prints
Aligning various ledges or shelves on a single wall is yet another trendy way to showcase your favorite photo wall displays. Go for plain white ledges, highlighting the subtle art on display. Design framed canvas designs or photos in unique sizes, patterns, and colors for an enigmatic appeal.
Align canvas photos in rows and columns
Go candid this time! Arranging photos in dedicated rows and columns is a wonderful pick on ideas for hanging family photos on the wall. You can dedicate a wall to depict various emotions of the family members, which gives it a lively appeal. Go for custom tile photos that would re-create the moments into a timeless saga that you can cherish with a cup of coffee on your couch. They are easy to install and do not harm the wall texture.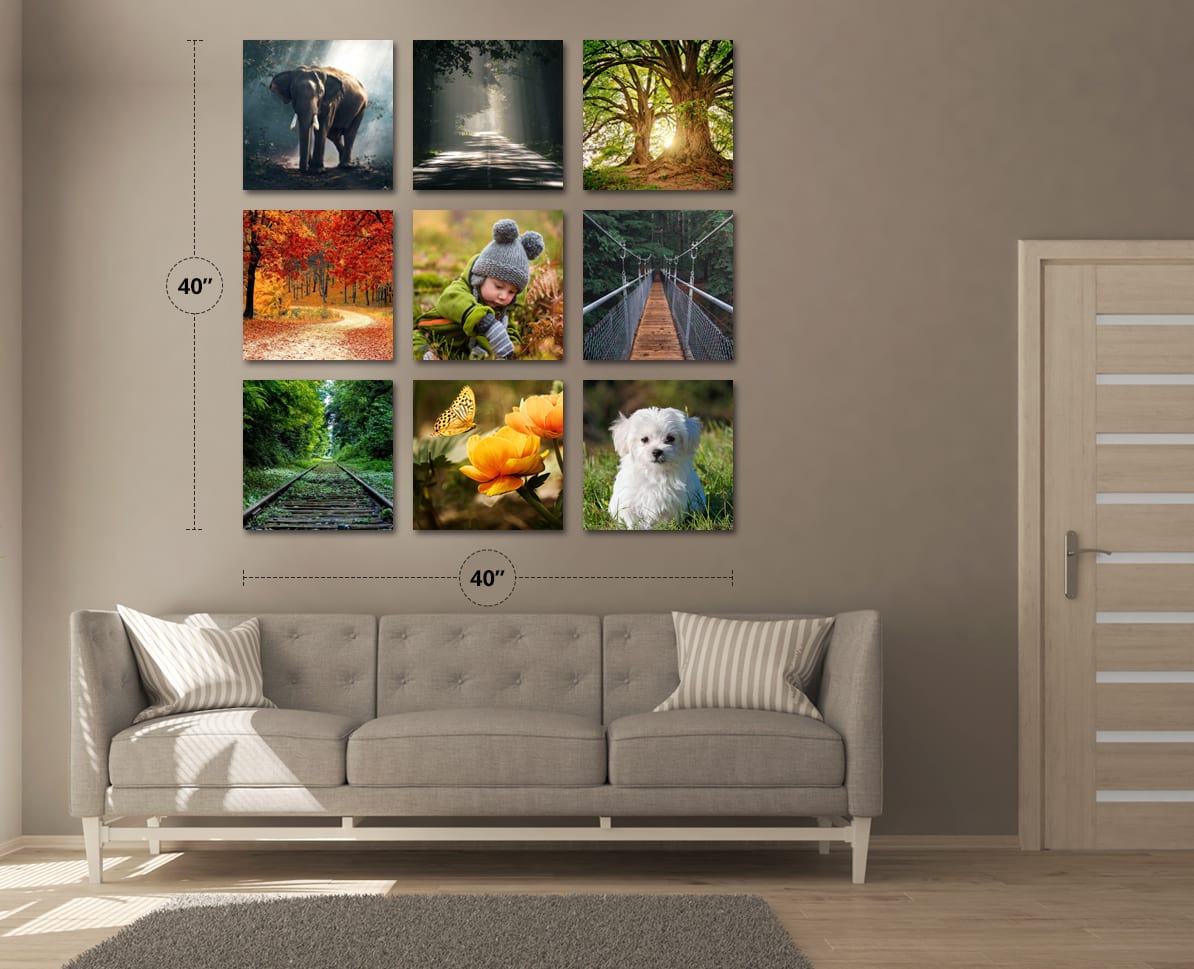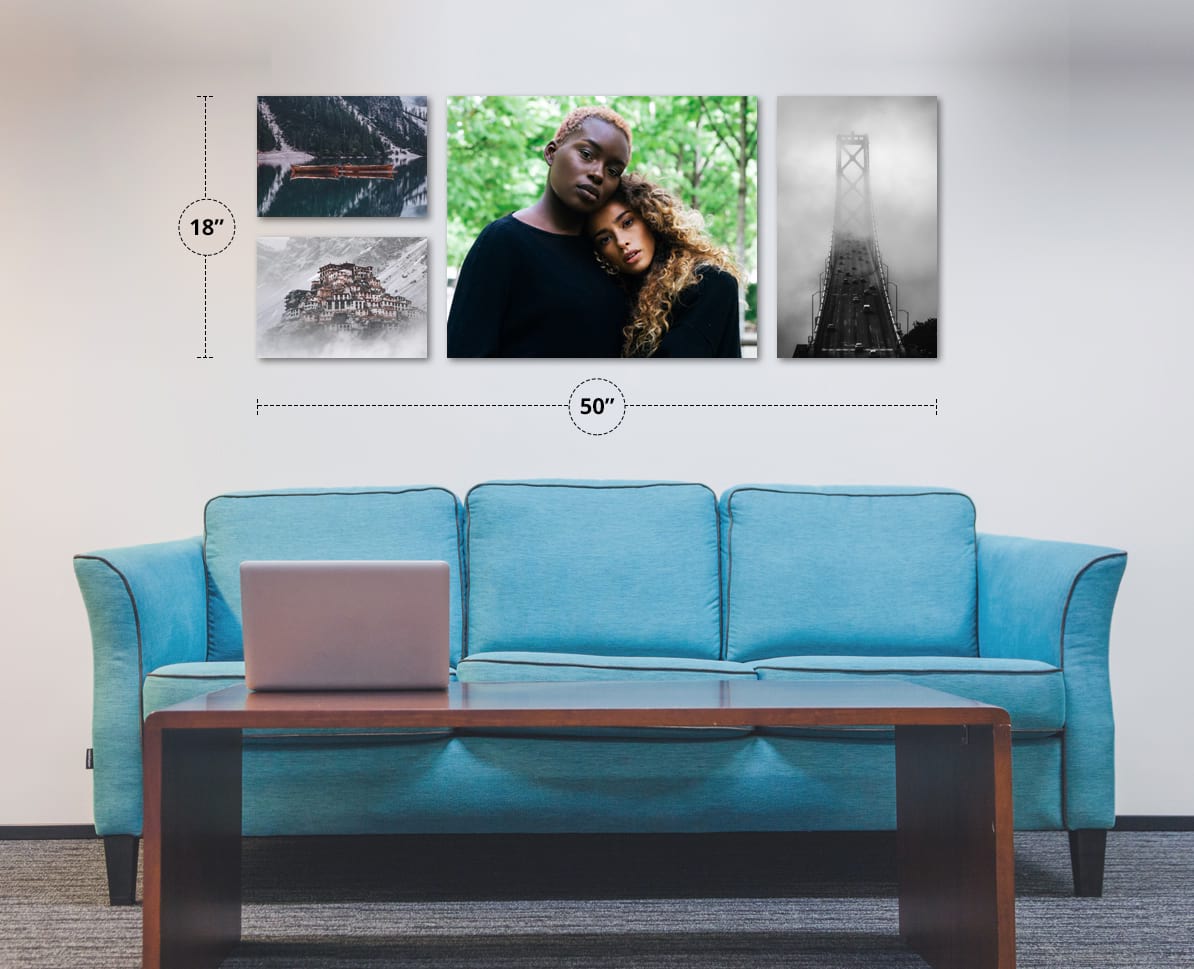 Cohesive is a new 'in'
Try the experimental design flow on any chosen wall and give it a cohesive touch. It is an amazing canvas prints wall display idea that can add value to the concept of the theme you have in mind. You can choose to compile multiple elements around you together, like your pet's picture, the gang of friends, landscape image of your favorite destination, personal shots, and a lot more. One can create a series of matching shots from various locations and incorporate them into a single wall.
Foam Board Photo Wall Displays
Want quick assimilation of various memories and priceless captures under a single frame? The foam board family photo canvas wall display can accommodate multiple life events or the gradual growth of your little munchkin, starting from their crawling days to walking, playing, laughing, and so on. Arrange the images as per your choice on a single board and create an exquisite range of emotions with thoughtful input.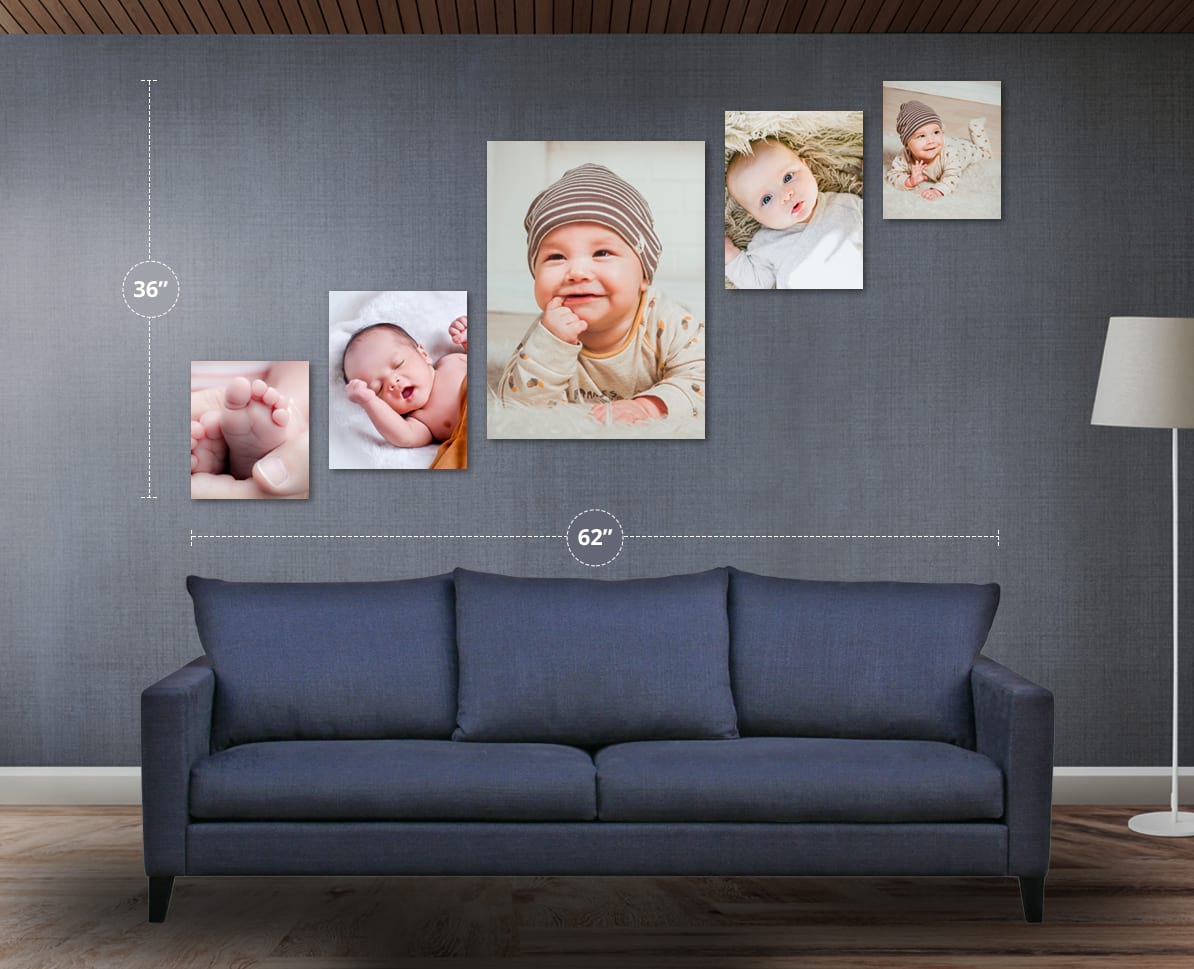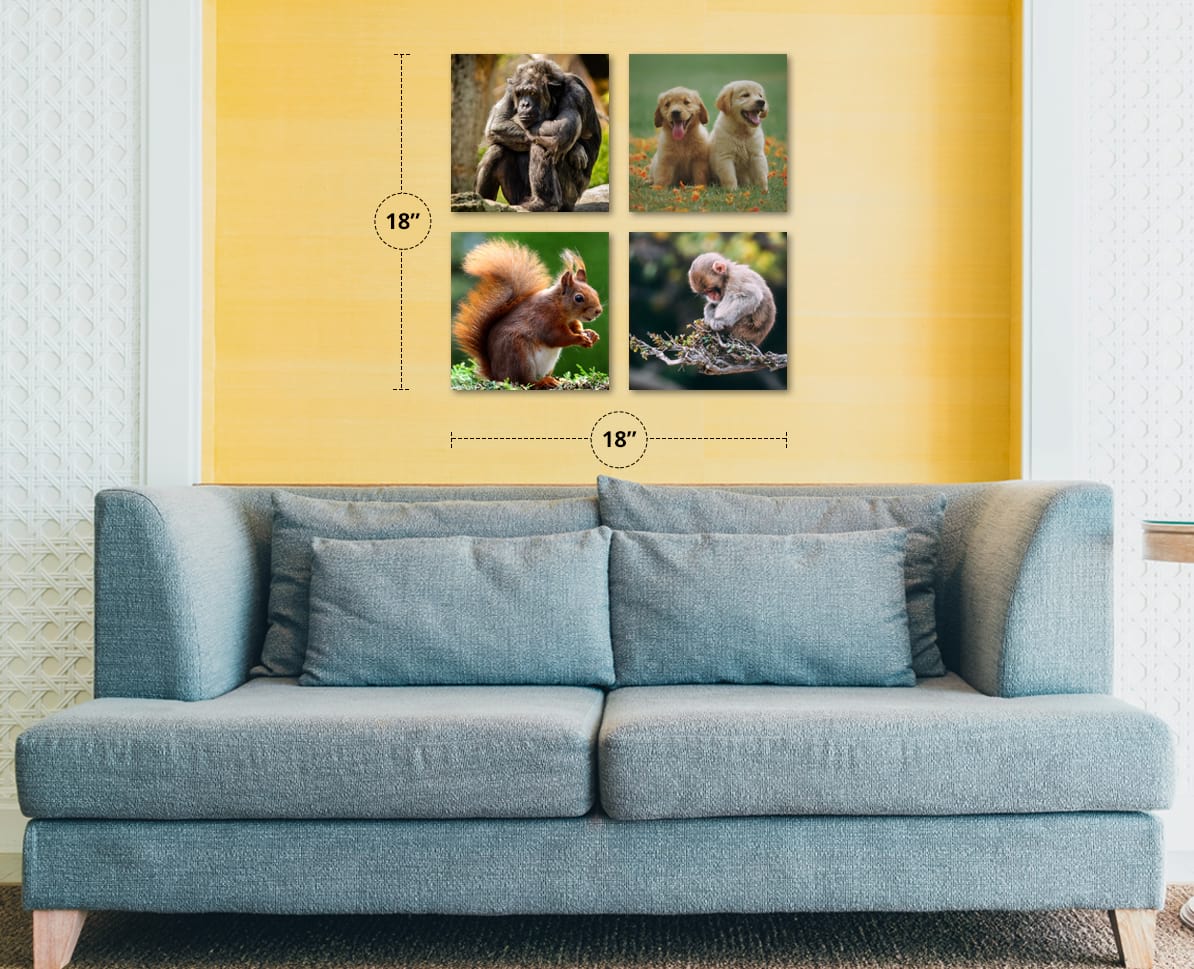 Gallery wall display of canvas photo prints
Create an accent living room or the bedroom gallery wall with an engaging combination of photo prints. Go for the selection of assorted frames and categorize them based on a specific theme. Ensure that they tune in with each other to create the desired nostalgia.
Printonn Wall Display Canvas Photo Prints are printed on high-quality materials for an attractive finish.
Spread the classic magic of black and white- Looking for some unique wedding photo display ideas? A classic black and white assembly of clicks from the wedding event can be sheer grace! The two-tone frames with matted effects on canvas can highlight the most auspicious moments with utmost elegance. Keep the frame alignment at varying heights for a patterned look instead of fixing them in a single line.
Panoramic Canvas Prints- Do nature and landscapes lure you? Then adopt the panoramic canvas wall display prints from your favorite location or the click from a recent visit to a surreal place. Hold the entire scenic frame in your wall display to grab that gallery feel. Choose frameless canvas displays to create a surreal display of that magical view!
Antique Theme canvas wall display ideas- Do your taste falls for everything that's classy and royal? If yes, select an antique metallic finish frame that depicts a regal style. Choose it for the arrangement of family photos and experiment with various shapes of photo frames placed at the proper spacing. Rest assured, they would look impeccable!
Timeline Canvas – Embracing the years of the family journey in chronological order is indeed divine. While creating the timeline photo wall displays, pick cute snapshots and pictures from the vacation trips that can create a splash of life over the walls.
Key Takeaways
Never mix up too many ideas, frames, or canvas boards on a single wall
Invest in good quality canvas wall display that could enhance the life of the photographs
Refer to the vendor who offers customized prints at feasible rates
Canvas can be highly experimental, provided you try unique options
Parting Thoughts
Already excited to create those memory walls? Enhance the house aesthetics with an innovative and unique canvas wall display idea that hints at your artistic tint. Hanging family photos has been a house regime for decades, but the canvas prints add a flavor to the wall décor patterns.
We have curated a list of canvas photo display ideas for walls that smartly utilizes every smallest space and corner of your place. Refer to experts for bagging stylish and trendy canvas wall display boards and frames to amp up the wall décor right now!