Top 10 Ideas for Canvas Print Wall Displays in 2022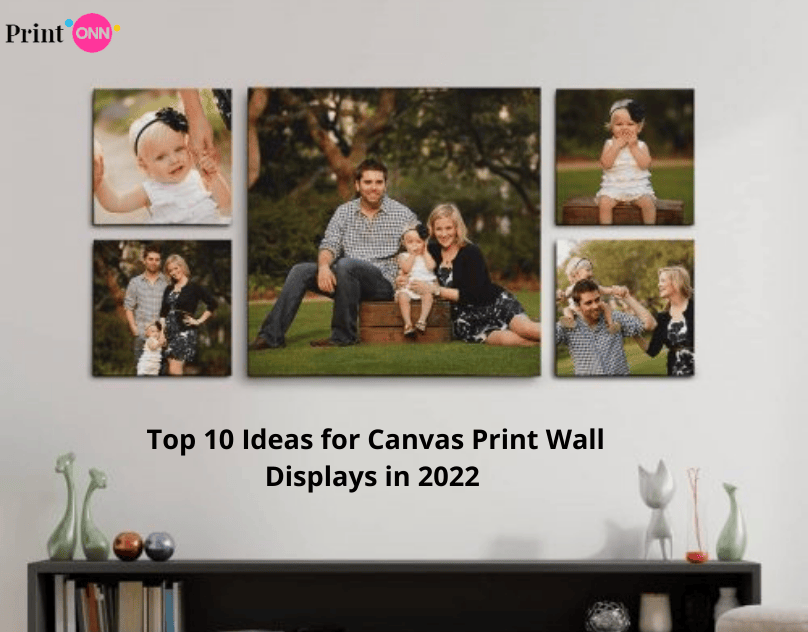 Introduction
Have a look at your wall! Don't you think it requires a makeover? Yes, indeed! But you might be wondering what are the best ways to decorate your house walls? Well, we have the answer! The Canvas prints wall display. It is one of the unique ways to give a beautiful look to the walls. It is a printing image on canvas, available in various sizes. If you want to cherish your special moments, Canvas prints are a perfect way without any doubt.
But, many people get overwhelmed when it comes to Canvas multi photos art arrangements. The multiple canvas print display can convey your personality, style, warmth, or humor.
You can also give your wall a personal feel by making custom canvas print wall displays of your pictures. And you can also make use of some of the outstanding shots of wildlife, landscapes, or pets. To help you out with the right decision, we have covered everything here in this blog post. We will talk about what Canvas prints wall display is, how you can arrange them on the wall, the unique ways to do so, and many more things. So, let's understand it one by one!
What is Canvas Prints Wall Display?
Canvas prints wall display is all about the unique idea and a way to express yourself in bits and pieces by small parts of canvas arranging on open spaces of your home walls. It gives life to your walls.
Once you have applied any of your photos to the Canvas print display, it brings photos to life automatically. You can show your exciting way with some extra uniqueness and creativity to print canvas wall displays.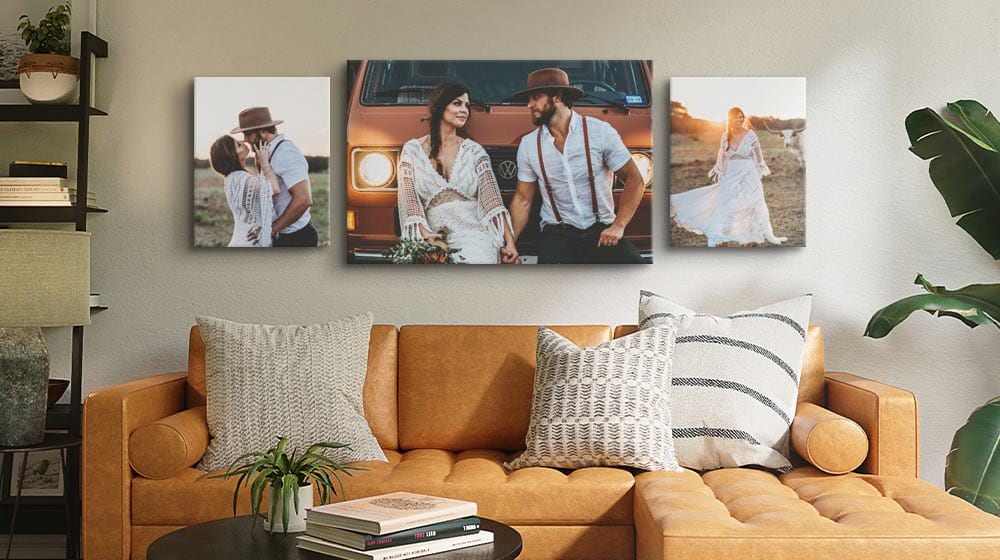 The materials used to make the canvas prints wall display include a fine art matte canvas blended, and to add strength and longevity, it is used in cotton and polyester. To know how long canvas prints last, you need to understand the types of canvas.
You should ensure that your canvas prints wall display comes with a protective UV laminate. It will save your canvas print from peel, split, or warp.
Apart from that, how you will display canvas prints on walls is also very important to give a unique and beautiful look to your walls. Let's understand quickly how you should display canvas prints on walls.
How to Display Canvas Prints on Wall?
Up to here, you get an idea of how efficient Canvas prints are and how we can place those Canvas print displays on our bedroom, living rooms, kitchen, and office walls. But, are you confused about how to display canvas prints on the wall? What is the best way to display it? Looking for tips? Read this article further and get an idea of how we can display canvas prints on walls.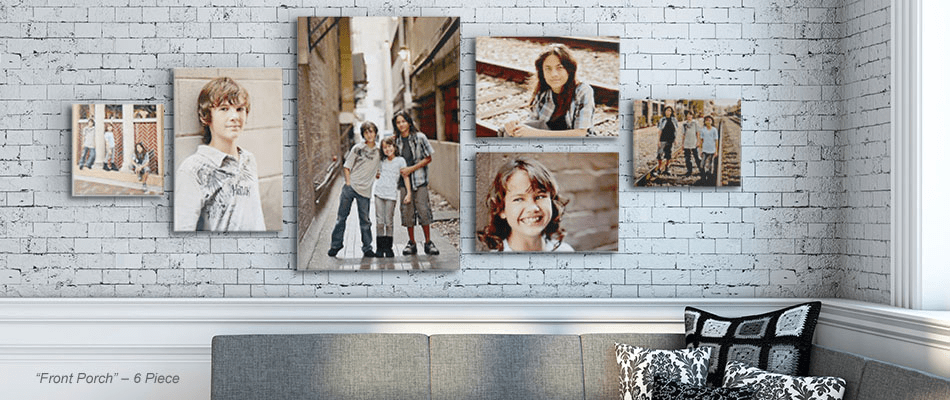 Top 10 Unique Ideas for Canvas Prints Wall Display
1.Gallery Walls
It is one type of Canvas print arrangement that consists of five to ten different pieces of art prints arranged in one area of walls. The size and placement of those prints can be different. There is no constraint on it. Mainly, in Gallery walls, there is one central focal point, and other prints are related accents that we can place around it. This arrangement of canvas print displays is used for a single event or theme.
2.Salon Walls
This kind of Canvas print display uses pieces of varying sizes running ceiling-to-floor. Salon Canvas prints display walls generally are used on the side of the door or window. You can also use this kind of Canvas print display wall in your shop if you have ample blank spaces. Even if you are using canvas prints for the first time, this kind of display idea is best.
3.Grids
This is one of the best ways to display your canvas prints on walls. In this type of canvas print, identically sized pieces are hung, leaving equal space between prints. You can highlight the central theme with Grids Canvas prints like travel pictures, family events, parties, etc. Those who like the clean and clear environment should go with this idea of a canvas prints display wall.
4. Shelves
We know you like those previous ideas, but you are somewhat confused about driving all those nails. So, don't be confused; there is one smarter way to display canvas prints on walls and shelves. It is one of the easiest ways to display canvas prints. You can place simple two to three canvas prints on a single row. To manage the desire, you need to change canvas prints frequently.
5.Statements
Usually, canvas prints speak about creativity and uniqueness, but it is not a rule. You can also give your message, like using the photos of your wedding vows or your favorite moments, and display it on your walls.
6.Shapes
Generally, the canvas prints are hanging on walls parallel to the lines of the floor. But what if we change the shape of canvas prints circularly? This idea attracts the viewer without having even any central focal point and attracts the viewer to have a look from one piece to the next. You can give entire canvas prints a diamond shape or zigzag with a modern flair. You also try the hexagon shape to display canvas prints on walls.
7.Filmstrips
You can arrange the small-sized canvas prints close to each other and look at the photography film. This is one of the best ideas to display the spotlight action in the form of a series of canvas prints and tell a story. Like the shape idea, it will also attract viewers to look at first to last prints. It is the best idea to bring variety and fun to those narrow spaces on the walls of your home.
8.Small Spaces
You can easily bring uniqueness to your big walls from the above ideas. But what about those smaller spaces in your house, like space between your window and door or narrow space over the window? You can display the smaller canvas prints on those areas with color and imagery photos. Also, you can make mini-galleries of canvas prints photos and display them in such areas of the home.
9.Corner Accents
There are no thumb rules like hanging those canvas prints on the wall only. You can also show your creativity and uniqueness by filling the corner of your room with a canvas prints display. This kind of small canvas print is a superb idea for desktop easels. You can show your creativity in any house space with different types of canvas prints.
10.Fill in the Blanks
As we said above, you can show your creativity everywhere at home. So, why don't you show your creativity with premium blank space on doors, the side of the refrigerator, or cabinets? You can use rolled canvas prints for those spaces. Even hanging canvas with light but sturdy bars at the bottom and top gives it a polished look. This is one of the unique ideas to display canvas prints.
These are some of the best ideas to display canvas prints on walls. But, the discussion does not end here. You need to identify which company is best for you and help you with the best canvas print wall display.
Printonn Wall Display Canvas Photo Prints are made of high-quality materials and have an appealing finish.
What to Look for in a company that can help you with Canvas Print Wall Display
To place the best Canvas prints on the wall of your home, you need to find out the best companies who can offer you the best quality of canvas prints. You need to look for a company with a straightforward online ordering process where you can go to their website, drop your requirement, and get your canvas prints at your home door. Ensure the company has an online assistant available to address your doubts and questions before and after buying Canvas prints. 
Also, you need to check whether the company is offering customization in your order or not. The small editing in text or photo makes the canvas prints display more attractive. 
If you want an exclusive canvas prints display, you need to find a canvas print company that offers archival canvas options. This type of canvas print is one of the most expensive ones, but it is worth hanging those canvas prints displayed at home. 
In short, you need to look for the company that offers you all the types of Canvas print wall display and do the customization as per your requirement.
Conclusion
Decorating house walls with various types of canvas print wall displays is a worthwhile idea to do. Based on the space and location of the empty wall at home, you can choose from this idea of how to display canvas print on the wall.
Customizing your canvas prints can give photos a life. So, you can use your wedding or any special moment's pictures for canvas prints and decorate your walls with the best memories of your life. 
We being the best canvas prints wall display maker can do the wonder for you, and based on your need, we do the customization. Experts at Print Onn can guide you with attractive and stylish designs that suit the wall of your home. 
PrintOnn - one of the best canvas prints in the USA. We can offer you safe and easy shipping of your canvas print wall display canvas at your home door at an affordable price. Get in touch and decide what type of canvas print wall display can make your home wall more attractive.