What Is Split Canvas Prints? Your Complete Step-By-Step Guide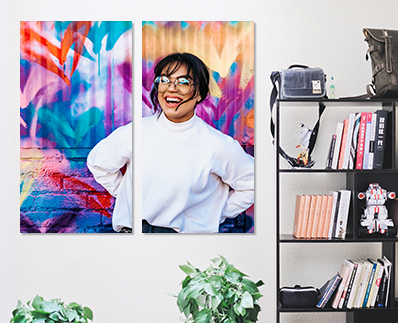 Do you also get bored by looking at the simple wall of your room/office the entire day? Want to transform the entire look of your wall in a very unique and affordable way? Then you must need to read further to get an idea about this unique way. Yes, it is Split canvas prints. It splits the image across a multi-picture canvas. The multi-panel canvas print is one of the finest approaches to design compared to any classic canvas photos.
The split art canvas is intended to add personality to your room, and it is also striking and eye-catching. If you are creative and want to show it out, you must experiment with split canvas prints to decorate your home, office, bedroom, etc.
Today, Print Onn came up with a detailed article about canvas multiple pictures and encouraging creativity. Read till the end to understand what are split canvas prints and get all the new ideas about Split decorate for home or Split decor for office.
What are split canvas prints?
The photos you have with good memories deserve a unique display to make memories worth remembering. Split canvas printing is a good concept to show your best pictures with multiple canvas panels - it is a funny and artistic way to show your pictures on a big wall.
It divides your image into several smaller canvas pictures instead of a huge focal piece of canvas. Here we use the word 'concept' as it is not dependent on one canvas and divided into multiple smaller canvases. Multiple canvas prints are more than that, which is more artistic and subtle. The shape and size of the panel leave a huge impact on the final look of split canvas prints. It is a flexible arrangement and intimate presentation of your favorite picture.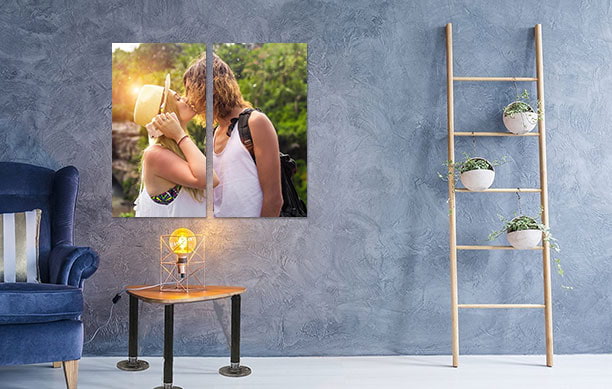 How do split canvas prints work?
After reading up here, you surely get some idea about what canvas split prints are and how it works. Yes, it is one of the artistic ways to transfer your photo onto various shapes that present one complete picture. We being a top-notch split canvas prints company, offer you all the types of split canvas prints: diptych, triptych, and polyptych canvas.
If you want to split the photos into two panels, it is called a diptych, while triptych means splitting photos into three canvas print panels. And, polyptych canvas means splitting your pictures into four or more four panels. When you hand over your picture to us for split canvas prints, we take care of quality, colors, finishing, and everything else that makes pictures more attractive and let you enjoy your pictures with exciting new styles.
What do you use split canvases for?
Canvas split prints are generally used to decorate your home or office with some creative representation of photos. Some examples include
Split canvas prints for office
We have seen many offices that hang panorama photos on the wall to make the office environment more creative and attractive. Sometimes the office peeps hang the photos of any special occasions or holidays to encourage the people. Instead of a normal canvas frame, the office people can go for split canvas prints to make the picture more attractive and style. Splitting photos into the multi canvas and hanging them together will give the real impact of any special event and create a fun factor as well in the office.
Split canvas prints for home
So, you can decorate your living room with canvas split prints, and that will surely demand the attention of everyone who passes by your living room. You can use any panorama image or any of your life memories and represent it in multi canvas panels on your living room's wall. That will surely bring happiness into your living room.
Split canvas prints for bedroom
You can use romantic, glam, or natural photos and convert them into multiple pictures. Canvas panels will make your bedroom lovelier. You can also personalize the design, color, or angles of photos as per your likes; this will certainly make your bedroom environment more loving and romantic.
Split decor for homes and offices is the trending way to decorate the walls. If you want to know which type of split canvas prints are more likely to suit your walls, read further.
Types of Split Canvas Prints
Basically, there are 3 types of Split canvas printing. Those three types are Diptych, Triptych, and Polyptych.
Diptych: - It is a kind of artwork that consists of two panels or pieces that are combined to create a singular art picture and can be presented together by adjoining each other. So, if the photo is represented as 2 split canvas prints, it is known as a diptych.

Triptych: - A triptych means having three folds. Yes, simply triptych is a wall art combination of three different pieces. Those three separate folds arrange in a way that they represent the singular art picture. So, if the photo is represented as a 3 piece canvas print, it is known as a triptych.

Polyptych: - The term polyptych means arranging four or more panels of painting (printing) that are usually hinged and folded together. It is one of the attractive ways to represent favorite photos by split canvas prints.
Why are multi panel canvas prints the best?
Painting more than one canvas is very appealing. It is a new trend, and some of the very common types of multiple-canvas paintings are 2-panel canvas print or 3-panel canvas print.
Here you need to note that it is not a series of images that go together. It is a composition stretch - create one printing with many small parts. So, you only need to arrange those small pieces into the combination, and you can't use them individually.
Now, let's understand why canvas multiple pictures are the best.
More Canvases add more interest: Using the multiple pictures split canvases relatively mundane subjects and gives a totally new dimension to the pictures.

Multiple canvases make transportation easier: If you like to decorate your home with huge pictures or artwork, then going for multiple canvases offers you the obvious advantage of easy transportation. So, If you like to decorate the wall with more than four feet of prints, we advise you to use multiple picture canvases.

Multiple canvases will spark your creativity: Single canvas printing has been in the trend for a long time, but now it's time to try something bizarre for your next printing. Multiple split canvas printing allows you to show your creativity in different shapes and sizes.

You can also decorate your wall by presenting puzzles by using multiple canvas pictures:

You can get great deals by buying multiple canvases: Even the canvases manufacturers like to create canvas multipacks. Buying several canvases is cheaper for the buyer, and multiple canvases make the presentation more dramatic, a contemporary statement on the decorated environment.
If you never try diptych, triptych, or polyptych, we encourage you to try it once. Don't be surprised if you never go with single-canvas again after using multi-split canvas panels.
Where can you use these multi panel canvas prints?
Multi Panel canvas prints give dramatic effects to the pictures you have used. You can use these new and styles concepts of multiple split canvases painting to give the styles look to your room or office.
Multiple split decors for home.
You can decorate your home wall with a picture such as a sharp focus picture, large format composition, vibrant colors photos, etc. Also, you can use the picture of your family moments to decorate your living room.
For your bedroom, you can use your romantic and love once picture and the environment more lovingly by using multiple split canvases panels.
Multiple split decors for office.
The decoration of the office wall has always represented the office's culture. It would help if you used pictures that deliver the message of teamwork, success, creativity, etc.
You can show more creativity by using multiple split canvas printing to decorate the office wall. Also, you can use any natural photos or photos of any special occasion in your office.
Moreover, you can also represent the puzzle by using multiple split canvas panels. This kind of decoration will surely attract the employees and force them to think out of the box.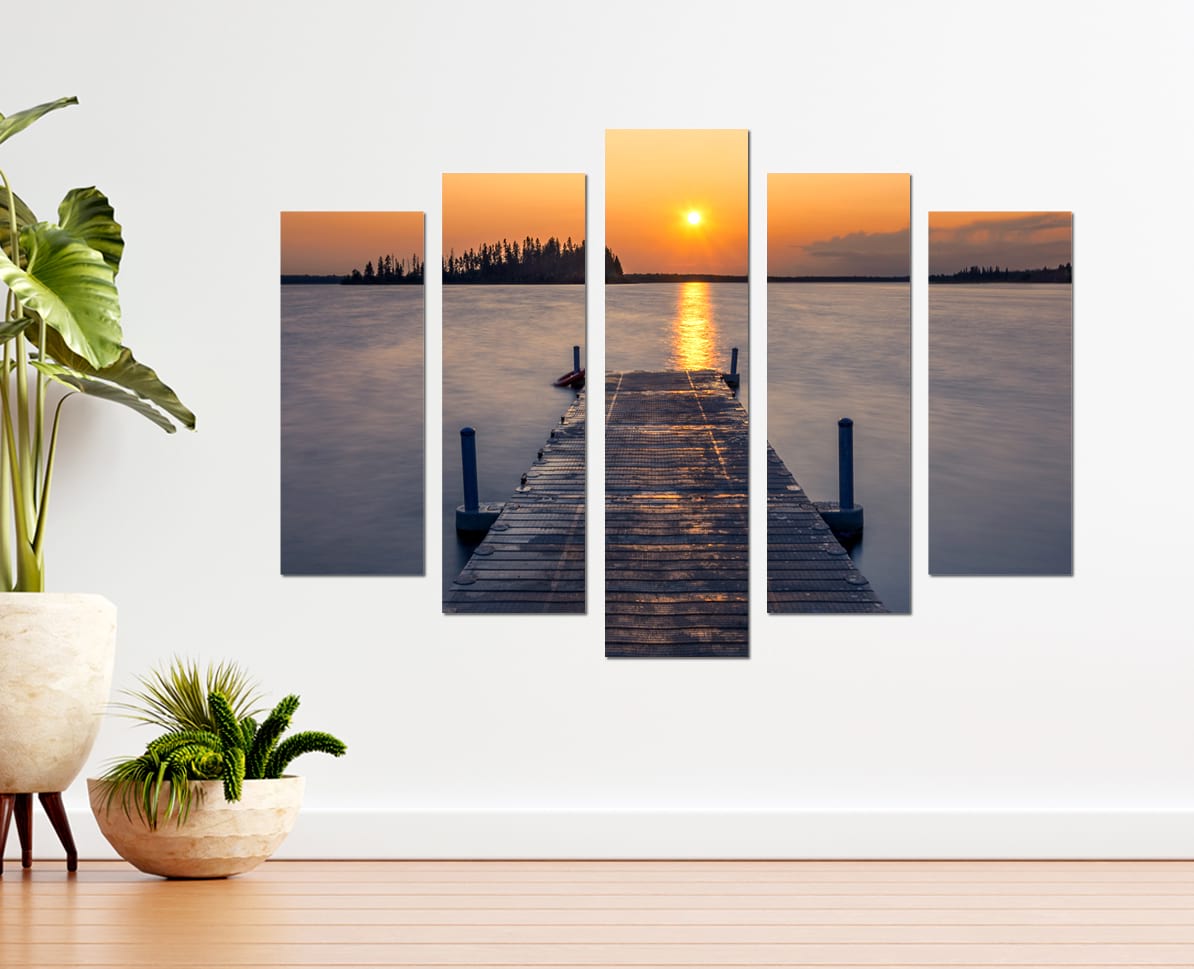 Whom to contact if you want to start making one?
If you want to order split canvas prints online, keep in mind that the best companies always offer a straightforward ordering process. You can smoothly upload your picture, and ideally, an online assistant is available to answer the many doubts regarding split canvas printing.
The best companies always offer customization in the canvas prints, like adding the text to the picture or filtering.
We at PrintOnn help you frame your best memories with lots of creativity. We offer you customization. We have attractive and stylish designs to make the split canvas pictures more beautiful.
We are certified best quality canvas prints in the USA and have certified printers. We can offer you safe and secure shipping at an affordable rate. Visit us now and order your split canvas print quickly.